LG's first 4K OLED rather easily took home our award for the best TV of 2014.
LG's EF9500 flat 4K OLED TVs are available in two sizes: a 55-inch set (LG 55EF9500,
MSRP: $3,999) and the 65-inch size that we tested in our labs (LG 65EF9500, MSRP:
$5,999). The two TVs are identical in terms of feature set and panel type, so
performance should be similar across both.
Other than the lack of curvature, the EF9500 flat 4K OLED TVs are nearly identical to
LG's EG9600 4K OLEDs, and are available for the same price currently.
Design :
OLED TVs never needed to be curved. The initial curvature was probably done in order
to show off the "flexible" nature of OLED technology.Like other OLED TVs, the EF9500
is ghastly thin, with most of the panel about as thick as a pencil.
As for wide color gamut, the EF9500 does fairly well. According to my measurements of
the Wide color space, it's capable of delivering 87.7 percent of DCI/P3 color, thought
to be the successor to the high-def color space. See more on the EF9500's color.
Features: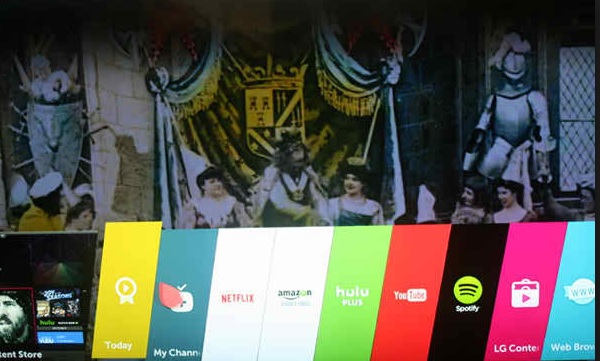 LG's EG9600 4K OLED it's not all aesthetics back here, either. You'll find both on-set
controls and AV ports, including three HDMI 2.0 inputs, three USB 3.0/2.0 inputs,
splitters for component/composite hookups, a coaxial jack a LAN (ethernet) input,
optical audio, and an RS-232c control port.
Display technology    : OLED

LED backlight            : N/A

Resolution                 : 4K

Refresh rate              : 120Hz

Screen shape            : Flat

Screen finish             : Glossy

Smart TV                  : Web OS 2.0

Remote                     : Motion

3D technology           : Passive

3D glasses included   : 2 pair



Picture quality:
OLED TVs has top-performing TVs for the past two years. This is because while
conventional LED/LCD TVs use a backlight to produce an image, OLED televisions are
"emissive" displays. Like plasma TVs.
The EF9500 Flat OLED is the best-looking TV we've seen in some time. It boasts all the
same strengths as LG's curved 4K OLEDs, with a few key improvements, too. it's a
worthy centerpiece to any home theater.
After calibration, the EF9500 exhibited spot-on accuracy, producing very realistic
renditions of sunlight, leaves, and wet grass coloration.
Basically, regardless of what I watched, the EF9500 looked awesome. But they keep
"light pollution" out of colors, making them look more pure and vibrant by comparison.
Combined with the EF9500's improved shadow detail performance compared to past sets,
this makes for very striking, accurate movies and TV.
Streaming 4K off of YouTube, Blu-ray discs, and even HD cable looks excellent.
However, the latter can be dodgy considering the EF9500 is a 4K/UHD TV and must
"upscale" (recreate) pixels whenever it's playing less-than-4K resolution content.
Because of this, the EF9500 definitely looks best when streaming or playing on-disc
1080p (Blu-ray) content and transfers, as it doesn't have to do as much guesswork.
Conclusion:
the LG 65EF9500 and the 55EF9500, that's no longer the case. These flat 4K OLEDs have
all the same performance advantages of LG's best OLED displays, but don't stick you
with a curved panel that you may not want. Add to that the improved webOS 2.0 smart
platform, a fetching design, and HDR compatibility and you've got one of the top TVs
of 2015.
But the flat display isn't the only thing that makes the EF9500 such a great
performer. Those issues haven't been entirely solved, but they're greatly improved.
Other aspects of 3D picture quality on the EF9500 were superb. Its passive 3D allows
its brightness to shine through for greater pop (especially against that perfect black
backdrop) than the active-3D-equipped LCDs. Colors looked excellent as well. As usual
I appreciated the lighter passive glasses, and found them more comfortable compared to
the active versions found on the other TVs.