Walmart has announced that it will begin its Cyber Monday sales the Sunday night of Thanksgiving weekend. The first round of deals will begin at 8 p.m. ET on Sunday, Nov. 29 and is part of a "Cyber Week" that starts on Saturday, Nov. 28, and runs throughout the week until Dec. 4.
It's hard to tell the differences among extended Black Friday sales, pre-Cyber Monday deals or weeklong deals after. For Cyber Monday 2015, the shopping day has become an anticipated holiday event. Retailers this year are beginning their deals Sunday with several running sales throughout the week.
Walmart Biggest Discount On Products:
Much like Black Friday, Cyber Monday 2015 has become a multi-day shopping event. Walmart is kicking off its huge list of deals Sunday as part of "Cyber Week." The retailer is offering deals along with free shipping on select items. Savings on power tools, clothing and tires are also on offer.
Electronics are at the center of the Walmart Cyber Monday deals, with the LG 65-inch 4K Ultra HDTV marked down to $799, a huge $500 discount with free shipping, among the highlights. The Samsung 48-inch 4K Ultra HD 60Hz LED HDTV is discounted to $598 while the Samsung 50″ 1080p LED HDTV is $498. Other Samsung and Vizio HDTVs will be on sale for Cyber Monday.
If you're looking for a tablet, Microsoft announced its Surface Pro 3 is $599, a savings of $200. A Nextbook Flexx 8.9-inch 2-in-1 tablet is down to $99.99. On the laptop side of things for Cyber Monday, Walmart is offering a Windows 10 Toshiba laptop with Intel Celeron N2840 processor, 2GB memory, 32GB SSD for $149, a $30 savings. Dell Inspiron laptops will also be on sale.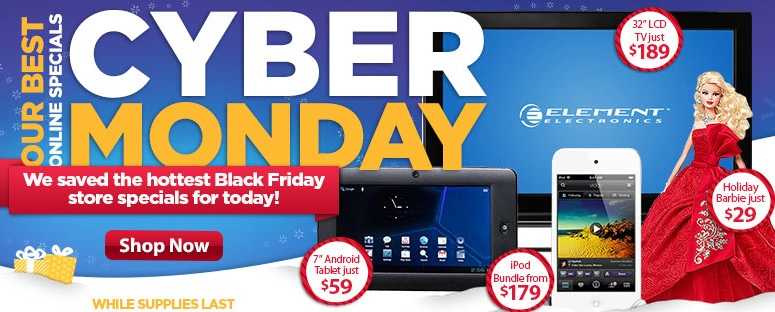 Walmart is offering similar Xbox One and PS4 deal as seen on Black Friday. A white Xbox One "Gears of War" bundle is $299.96 and comes with an additional controller. The PS4 "Star Wars: Battlefront" value bundle, with headset, is $399. A New Nintendo 3DS XL is $199.99 and comes with your choice of game, including "The Legend of Zelda: Majora's Mask 3D."
There are also many toys discounted for Cyber Monday. The AirHogs Helix video drone is $75 while the Air Hogs Star Wars Remote Control X-34 Landspeeder is $19.88. Zoomer Zuppies is $15.
For the home, the Mainstays Connectrix Futon is reduced to $99. The Shark Navigator Swivel Plus is reduced to $97.
So why wait for ????
Conclusion:
Cyber Monday is expected to be part of a busy holiday season for Walmart.com, particularly from shoppers using their phones to shop online. This year, the company is expecting 75% of its online traffic to come from mobile devices, either through the company's app or through a visit from a mobile web browser. Walmart expects 210 million visitors to its site from the app alone in November and December, a stark increase from the 18 million shoppers who shopped in the app just two years ago.
Madeira is confident the site is ready for the impending storm. "We are ready to go, ready for the customers."