Google parent company Alphabet has overtaken Apple to become the world's most valuable public company after it reported better-than-expected quarterly revenue.
Their profit rise in to 4.9 billion US dollars (£3.4bn), up from 4.7 billion (£3.2bn) in the same period last year, boosted by strong sales of advertising on mobile devices and YouTube. Their share is also a good position.
As stock markets opened following the results, Apple was valued at $534bn – with Google passing them at $554bn.
while the first regular hours of trading, Alphabet shares rose about 4 percent to push the company's market capitalization to about $539 billion.
Apple, with investors uneasy about iPhone sales, lost about 1 percent, dropping its market capitalization to a mere $530 billion.
Alphabet, announcing the first results of a new reporting to improving transparency, said consolidated revenue jumped 17.8 percent to $21.33 billion in the fourth quarter ended Dec. 31, from $18.10 billion a year earlier, on Monday.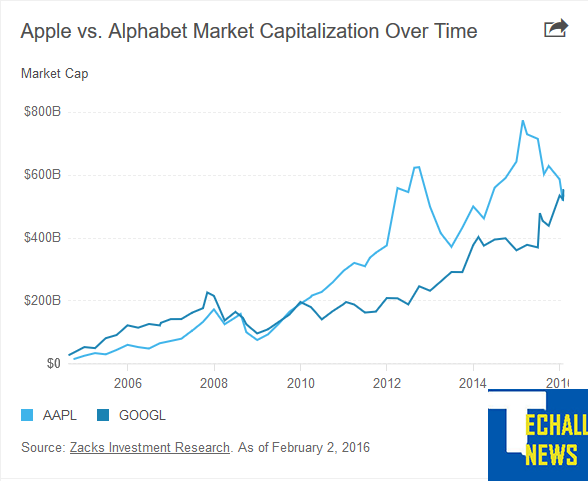 Google's shares rose 6.4 percent to $820 in after-hours trading on Monday, putting the company on track to overtake Apple as the most valuable company in the United States when regular trading resumes on Tuesday.
Google's advertising revenue increased nearly 17 percent to $19.08 billion, while the number of ads, or paid clicks, rose 31 percent, the company said.
Advertisers pay Google only if someone clicks on their ad.
'Our very strong revenue growth in Q4 reflects the vibrancy of our business, driven by mobile search as well as YouTube and programmatic advertising, all areas in which we've been investing for many years,' said Ruth Porat, CFO of Alphabet.
Their Digital marketing beats all other company. Alphabet has a huge advertising revenue for every month.it's great opportunity to increased their profit.
Net income in the fourth quarter rose to $4.92 billion, or $7.06 per Class A and B share and Class C capital stock, from $4.68 billion, or $6.79 per share.Excluding one-time items, Google earned $8.67 per share.
Analysts on average had expected a profit of $8.10 per share and revenue of $20.77 billion, according to Thomson Reuters I/B/E/S.
All of those factors have helped lift Alphabet's stock — previously Google's — by 41 percent since the end of 2014.
It's a potentially big shift for Apple, which has held bragging rights as the world's most valuable company for most of the past four-and-a-half years. (ExxonMobil seized the high ground for a brief time in 2013.)
Alphabet would become the 12th company to rise to the most valuable spot, according to Standard & Poor's.
That's a dramatic swing from where things stood just 13 months ago.
Apple then boasted a market value of $643 billion, almost twice Google Inc.'s $361 billion.
The Verdict:
Since then, investors have soured on Apple.
The company has struggled to come up with another trend-setting product amid slumping sales of its most important device — the nearly 9-year-old iPhone, which accounts for roughly two-thirds of Apple's overall sales.
Google has maintained its leadership in the Internet search and ad market while building other popular products in video, mobile, web browsing, email and mapping.